San Francisco, California, is famous for its scenic beauty, cultural attractions, diverse communities, and world-class cuisine. This very walk-able city is dotted with landmarks like the Golden Gate Bridge, cable cars, Alcatraz and the largest Chinatown in the United States. A stroll of the City's streets can lead to Union Square, the Italian-flavored North Beach, Fisherman's Wharf, the Castro, Japantown and the Mission District, with intriguing neighborhoods to explore at every turn.
Views of the Pacific Ocean and San Francisco Bay are often laced with fog, creating a romantic mood in this most European of American cities. The City has a colorful past, growing from a small village to a major city nearly overnight as a result of the 1849 Gold Rush.
The City is home to world-class theatre, opera, symphony and ballet companies and often boasts premieres of Broadway-bound plays and culture-changing performing arts. San Francisco is one of USA's greatest dining cities. The diverse cultural influences, proximity of the freshest ingredients and competitive creativity of the chefs result in unforgettable dining experiences throughout the City (source: SFCVB).
See a map of San Francisco ►
The Golden Gate in San Francisco. One of the world's most famous and beautiful bridges. Inaugurated in 1937 with almost 2 km of extension and towers of 220 meters high.
The Japanese Tea Garden in Golden Gate Park.
Powell Street Hill, in San Francisco.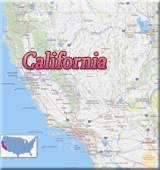 The Palace of Fine Arts. It is the only remaining structure of the 1915 Panama-Pacific Exposition in San Francisco.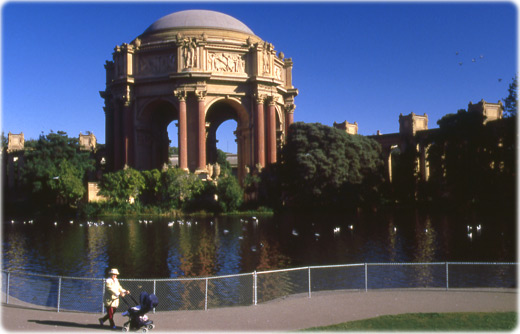 Copyright © Geographic Guide - Travel.
San Francisco Bay and San Pablo Bay, California (NASA, September 1994) San Pablo Bay, the northern extension of larger San Francisco Bay, is featured in this near-vertical, synoptic photograph. The sediment pattern in the water suggests a westward flow from San Francisco Bay into the coastal waters of the Pacific Ocean. Visible are several bridges, including Golden Gate Bridge, that connect the cities surrounding the bay. The ruggedness of the major ridges, hills, and low mountains, many in a northwest-southeast alignment, contrasts with the urban areas.