People
Population: 10.2 million (July 2004 est.).
Population growth rate: - 0.05 % (2004 est.).
Life expectancy at birth: 75.8 years.
Religions: Roman Catholic 39.2%, Protestant 4.6%, Orthodox 3%, other 13.4%, atheist 39.8%.
Ethnic groups: Czech 81.2%, Moravian 13.2%, Slovak 3.1%, Polish 0.6%, German 0.5%, Silesian 0.4%, Roma 0.3%, Hungarian 0.2%, other 0.5% (1991).
Language: Czech.
Country name: Czech Republic (local: Ceska Republika or Czechia).
Capital: Prague.
Government type: Parliamentary democracy.
Total area: 78,866 km².
Highest point: Snezka 1,602 m.
Climate: Temperate; cool summers; cold, cloudy, humid winters.
Administrative divisions: 13 regions (kraje, singular - kraj) and 1 capital city (hlavni mesto); Jihocesky Kraj, Jihomoravsky Kraj, Karlovarsky Kraj, Kralovehradecky Kraj, Liberecky Kraj, Moravskoslezsky Kraj, Olomoucky Kraj, Pardubicky Kraj, Plzensky Kraj, Praha, Stredocesky Kraj, Ustecky Kraj, Vysocina, Zlinsky Kraj.
Terrain: Bohemia in the west consists of rolling plains, hills, and plateaus surrounded by low mountains; Moravia in the east consists of very hilly country.
After World War II, a truncated Czechoslovakia fell within the Soviet sphere of influence. In 1968, an invasion by Warsaw Pact troops ended the efforts of the country's leaders to liberalize Communist party rule and create "socialism with a human face." Anti-Soviet demonstrations the following year ushered in a period of harsh repression.
With the collapse of Soviet authority in 1989, Czechoslovakia regained its freedom through a peaceful "Velvet Revolution." On 1 January 1993, the country underwent a "velvet divorce" into its two national components, the Czech Republic and Slovakia. Now a member of NATO, the Czech Republic has moved toward integration in world markets, a development that poses both opportunities and risks. In December 2002, the Czech Republic was invited to join the European Union (EU). It is expected that the Czech Republic will accede to the EU in 2004.
Following the First World War, the closely related Czechs and Slovaks of the former Austro-Hungarian Empire merged to form Czechoslovakia. During the interwar years, the new country's leaders were frequently preoccupied with meeting the demands of other ethnic minorities within the republic, most notably the Sudeten Germans and the Ruthenians (Ukrainians).
Economy
One of the most stable and prosperous of the post-Communist states, the Czech Republic has been recovering from recession since mid-1999. Growth in 2000-03 was supported by exports to the EU, primarily to Germany, and a near doubling of foreign direct investment. Domestic demand is playing an ever more important role in underpinning growth as interest rates drop and the availability of credit cards and mortgages increases. High current account deficits - averaging around 5% of GDP in the last several years - could be a persistent problem. Inflation is under control. The EU put the Czech Republic just behind Poland and Hungary in preparations for accession, which will give further impetus and direction to structural reform. Moves to complete banking, telecommunications, and energy privatization will encourage additional foreign investment, while intensified restructuring among large enterprises and banks, and improvements in the financial sector, should strengthen output growth. Nonetheless, revival in the European economies remains essential to stepped-up growth.
Currency: Czech koruna (CZK).
GDP (purchasing power parity): US$ 160.5 billion (2003 est.).
GDP per capita (purchasing power parity): US$ 15,700 (2003 est.).
Charles Bridge over the Vltava River, in Prague, capital of the Czech Republic. The city centre preserves many historic buildings from 18th-century, including Baroque palaces, Gothic and Renaissance houses. Prague, located at the heart of Europe, is the main Czech economic and cultural center.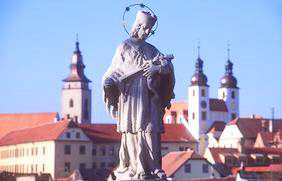 15th century Town Hall Clock in Old Town Square, Prague.

Religious icon, in Telč, a mediaval city of the Czech Republic, included in the UNESCO World Heritage List, in 1992.
Church of Our Lady before Tın, Hyadcanske Square, old town, Prague. Built in 1365 in Gothic architecture.
Main source: CIA - The World Factbook 2004.