People
Population: 10.7 million (July 2018 est.).
Religions: Roman Catholic 10.4%, Protestant (includes Czech Brethren and Hussite) 1.1%, other and unspecified 54%, none 34.5% (2011 est.).
Ethnic groups: Czech 64.3%, Moravian 5%, Slovak 1.4%, other 1.8%, unspecified 27.5% (2011 est.).
Language: Czech (official) 95.4%, Slovak 1.6%, other 3% (2011 census).
Country name: Czech Republic (local: Ceska Republika or Czechia).
Capital: Prague.
Government type: Parliamentary democracy.
Total area: 78,866 km².
Highest point: Snezka 1,602 m.
Climate: Temperate; cool summers; cold, cloudy, humid winters.
Administrative divisions: 13 regions (kraje, singular - kraj) and 1 capital city (hlavni mesto); Jihocesky Kraj, Jihomoravsky Kraj, Karlovarsky Kraj, Kralovehradecky Kraj, Liberecky Kraj, Moravskoslezsky Kraj, Olomoucky Kraj, Pardubicky Kraj, Plzensky Kraj, Praha, Stredocesky Kraj, Ustecky Kraj, Vysocina, Zlinsky Kraj.
Terrain: Bohemia in the west consists of rolling plains, hills, and plateaus surrounded by low mountains; Moravia in the east consists of very hilly country.
After World War II, a truncated Czechoslovakia fell within the Soviet sphere of influence. In 1968, an invasion by Warsaw Pact troops ended the efforts of the country's leaders to liberalize Communist party rule and create "socialism with a human face." Anti-Soviet demonstrations the following year ushered in a period of harsh repression.
With the collapse of Soviet authority in 1989, Czechoslovakia regained its freedom through a peaceful "Velvet Revolution." On 1 January 1993, the country underwent a "velvet divorce" into its two national components, the Czech Republic and Slovakia. Now a member of NATO, the Czech Republic has moved toward integration in world markets, a development that poses both opportunities and risks. In December 2002, the Czech Republic was invited to join the European Union (EU). It is expected that the Czech Republic will accede to the EU in 2004.
Following the First World War, the closely related Czechs and Slovaks of the former Austro-Hungarian Empire merged to form Czechoslovakia. During the interwar years, the new country's leaders were frequently preoccupied with meeting the demands of other ethnic minorities within the republic, most notably the Sudeten Germans and the Ruthenians (Ukrainians).
Charles Bridge over the Vltava River, in Prague, capital of the Czech Republic. The city centre preserves many historic buildings from 18th-century, including Baroque palaces, Gothic and Renaissance houses. Prague, located at the heart of Europe, is the main Czech economic and cultural center.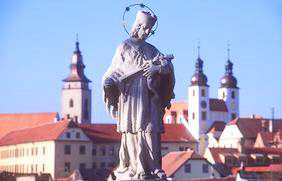 15th century Town Hall Clock in Old Town Square, Prague.

Religious icon, in Telč, a mediaval city of the Czech Republic, included in the UNESCO World Heritage List, in 1992.
Church of Our Lady before Tın, Hyadcanske Square, old town, Prague. Built in 1365 in Gothic architecture.
Main source: CIA - The World Factbook.