Founded in 963, Luxembourg became a grand duchy in 1815 and an independent state under the Netherlands. It lost more than half of its territory to Belgium in 1839, but gained a larger measure of autonomy. Full independence was attained in 1867.
People
Population: 605,764 (July 2018 est.)
Religions: Christian (predominantly Roman Catholic) 70.4%, Muslim 2.3%, other (includes Buddhist, folk religions, Hindu, Jewish) 0.5%, none 26.8% (2010 est.).
Ethnic groups: Luxembourger 52.1%, Portuguese 16%, French 7.6%, Italian 3.6%, Belgian 3.4%, German 2.2%, Spanish 1.1%, British 1%, other 13% (2018 est.).
Languages: Luxembourgish (official administrative and judicial language and national language (spoken vernacular)) 55.8%, Portuguese 15.7%, French (official administrative, judicial, and legislative language) 12.1%, German (official administrative and judicial language) 3.1%, Italian 2.9%, English 2.1%, other 8.4% (2011 est.).
Nationality
: noun - Luxembourger(s). Adjective - Luxembourg.
St. John's Church, 17th century, Luxembourg.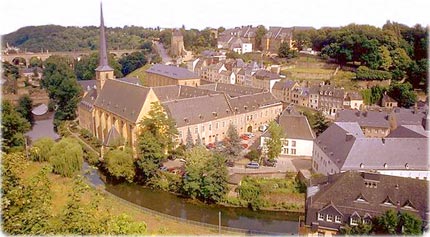 Geography
Country name: Grand Duchy of Luxembourg (local: Grand Duche de Luxembourg.
Capital: Luxembourg.
Government type: constitutional monarchy.
Independence: 1839 (from the Netherlands).
Administrative divisions: 3 districts; Diekirch, Grevenmacher, Luxembourg.
Terrain: mostly gently rolling uplands with broad, shallow valleys; uplands to slightly mountainous in the north; steep slope down to Moselle flood plain in the southeast.
Total area: 2,586 km².
Highest point: Buurgplaatz 559 m.
Climate: modified continental with mild winters, cool summers.
Port: Mertert.
Overrun by Germany in both World Wars, it ended its neutrality in 1948 when it entered into the Benelux Customs Union and when it joined NATO the following year.
In 1957, Luxembourg became one of the six founding countries of the European Economic Community (later the European Union), and in 1999 it joined the euro currency area.
Main source: CIA - The World Factbook.
Economy
This stable, high-income economy features solid growth, low inflation, and low unemployment. The industrial sector, initially dominated by steel, has become increasingly diversified to include chemicals, rubber, and other products. Growth in the financial sector, which now accounts for about 22% of GDP, has more than compensated for the decline in steel. Most banks are foreign-owned and have extensive foreign dealings. Agriculture is based on small family-owned farms. The economy depends on foreign and trans-border workers for more than 30% of its labor force. Although Luxembourg, like all EU members, has suffered from the global economic slump, the country has maintained a fairly strong growth rate and enjoys an extraordinarily high standard of living.
Currency: euro (EUR).
Industries: banking, iron and steel, food processing, chemicals, metal products, engineering, tires, glass, aluminum.

Copyright © Geographic Guide - Travel and Tourist guide. (Luxembourgish: Lëtzebuerg; German: Luxemburg.
Château de Vianden, constructed between the 11th and 14th centuries.

Abbaye St. Maurice, Clervaux.