People
Population: 449,043 (July 2018 est.).
Religions: Roman Catholic (official) more than 90% (2006 est.).
Ethnic groups: Maltese (descendants of ancient Carthaginians and Phoenicians with strong elements of Italian and other Mediterranean stock).
Languages: Maltese (official) 90.1%, English (official) 6%, multilingual 3%, other 0.9% (2005).
Nationality
: Maltese (singular and plural).
Mosta Church (the Rotunda) with the third largest dome in the world. Built between 1827 and 1865, and designed by Maltese architect Giorgio Grognet de Vasse.
Geography
Country name: Republic of Malta (local: Repubblika ta' Malta).
Capital: Valletta.
Government type: parliamentary republic.
Independence: 21 September 1964 (from UK).
Terrain: mostly low, rocky, flat to dissected plains; many coastal cliffs.
Total area: 316 km˛. The country comprises an archipelago, with only the three largest islands (Malta, Ghawdex or Gozo, and Kemmuna or Comino) being inhabited; numerous bays provide good harbors.
Coastline: 196.8 km (does not include 56.01 km for the island of Gozo).
Highest point: Ta'Dmejrek 253 m (near Dingli).
Climate: Mediterranean with mild, rainy winters and hot, dry summers.
Ports and harbors: Marsaxlokk, Valletta.
Main source: CIA - The World Factbook.
Great Britain formally acquired possession of Malta in 1814. The island staunchly supported the UK through both World Wars and remained in the Commonwealth when it became independent in 1964. A decade later Malta became a republic.
Since about the mid-1980s, the island has transformed itself into a freight transshipment point, a financial center, and a tourist destination. Malta became an EU member in May of 2004.

Copyright © Geographic Guide Travel. Gyeografi, Географи, جغرافيا
Economy
Major resources are limestone, a favorable geographic location, and a productive labor force. Malta produces only about 20% of its food needs, has limited fresh water supplies, and has no domestic energy sources. The economy is dependent on foreign trade, manufacturing (especially electronics and textiles), and tourism. Malta is privatizing state-controlled firms and liberalizing markets in order to prepare for membership in the European Union. The island remains divided politically, however, over the question of joining the EU. Continued sluggishness in the global economy is holding back exports, tourism, and overall growth.
Currency: Maltese lira (MTL).
Industries: tourism; electronics, ship building and repair, construction; food and beverages, textiles, footwear, clothing, tobacco.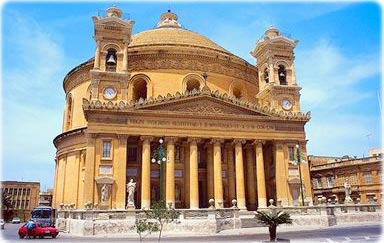 Valletta, capital of Malta.