Pictures of The United Kingdom
Eilean Donan Castle, Scotland. The Castle was re-built from the ruins of its predecessor, between 1912 and 1932. The original Castle was attacked by warships and abandoned in ruins in 1719. It served as stage for parts of movies such as Highlander (1985), Loch Ness (1995) and James Bond - The World is Not Enough (1999).
Castles of

UK

Involved in myths and mysteries, the United Kingdom shelters hundreds of castles. Great part are ruins from the Middle Ages. Memories of a time where knights went in crusades "to free" Jerusalem from the Muslims.
Conwy Castle, in the north of Wales, United Kingdom.
Forth Rail Bridge, Scotland. Constructed in the 1880s, it was one of the first cantilever bridges.
The Clock Tower of the traditional Trinity College, in Cambridge, England. Trinity College, founded by Henry VIII in 1546, it has provided 31 Nobel Prizewinners. Isaac Newton, entered the College as an undergraduate in 1661 and remained at Trinity until 1696.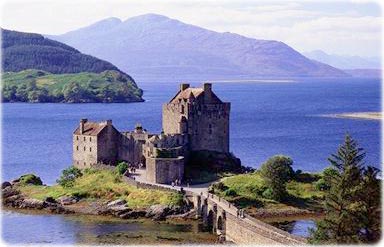 Copyright © Geographic Guide - European Countries, Travel. Argitektuur, Arquitectura, Arhitektura.