Images of Oceania from Space
The eye of Typhoon Yuri in the western Pacific Ocean (November, 1991, NASA). The eye wall descends almost to the sea surface, a distance of nearly 13 800 meters. Yuri grew to super typhoon status, packing maximum sustained winds estimated at 270 km/h, with gusts reaching an estimated 320 km/h. The storm moved west toward the Philippine Islands before turning northeast into the north Pacific Ocean.

Southeastern Australia and Tasmania (Terra satellite - NASA, March 2003).

South Island, New Zealand - The bright white snow contrasts sharply with the deep green vegetation of the coastal areas as well as with the bright blue, glacier-fed lakes scattered across the Southern Alps, which run diagonally across the island (Terra satellite - July 2003).
French Polynesia (right). The island of Bora-Bora is a single island surrounded by an extensive coral reef and a beautiful blue lagoon captured in the center of this low-oblique photograph. Like most of its neighboring islands, Bora-Bora, a remnant of a severely eroded, exposed tip of an extinct volcano, is one of the volcanic Society Islands, part of French Polynesia. The coral reef north of Bora-Bora is Tupai Atoll. The two islands southeast of Bora-Bora, Tahaa (northern island) and Raiatea (larger southern island), are encircled by a single coral reef system. These three islands and atoll represent an excellent teaching tool to explain the evolutionary physical cycle, which requires thousands of years, through which these volcanic islands pass. Three types of coral reefs—fringing reefs, barrier reefs, and atolls—develop in sequence around the south Pacific volcanic islands. Similarly, the volcanic islands are born and erode until no land or inner islands exist, and only the coral atolls remain (NASA - October 1994).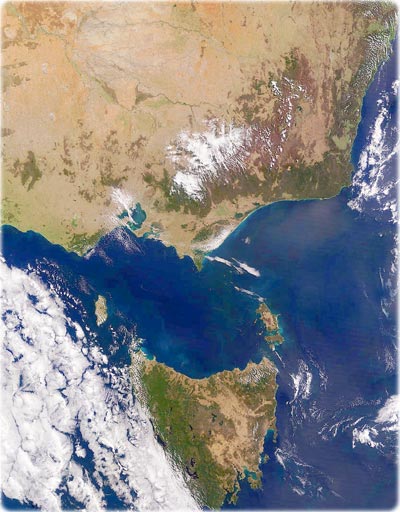 Copyright © Geographic Guide - Travel Pacific Islands.