Dey Street from Broadway - 1910
Buildings, people and carts on Dey Street as seen from Broadway. The Western Union Telegraph Building (195 Broadway) with office of the Mercantile National Bank, is to the right. Photograph published in 1910 in the book Both Sides of Broadway from Bowling Green to Central Park. Original title: Perspective View of Dey Street.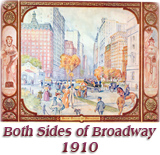 Copyright © Geographic Guide - Old photographs of City of New York.
44 - Shops and office buildings from 179 to 191 Broadway. Cortlandt St. to Dey Street - 1910.
47 - John Street from Broadway. Chatham National Bank (192 Broadway) - 1910.
46 - Broadway, corner of Dey Street - 1910.

Dey Street from Broadway - 1910