Mont Blanc, the highest peak (4,807 m) in Europe. Located in the Alps, along the French-Italian border. The summit is in French territory. Chamonix, a mountain resort at the foot of the Mount Blanc, is the starting point to reach the peak.

Copyright © Geographic Guide - Travel European Continent.
Statue of Saint-Leo IX stands in the main square of Eguisheim before the church of Saint Peter and Saint Paul. Saint-Leo IX was born in Eguisheim and became Pope in 1049.
The Old Port of Marseille at night.
La Porte Cailhau, Place du Palais, in Bordeaux. It was constructed in 1495 to celebrate the victory of King Charles VIII at Fornoue. Bordeaux is also famous for its wines.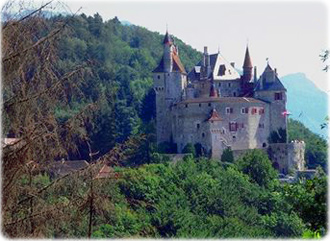 Strasbourg, the ancient capital of the Alsace region, in northeast France.
Beach in Nice. The city is a major tourist center and a leading resort along the French Riviera.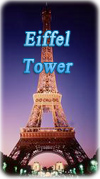 Windsurfers at Pointe Rouge Beach, Marseilles.
Chateau de Menthon Saint-Bernard, near Annecy Lake.