East Side Broadway at Exchange Place - 1910
Old buildings on the east side of Broadway at Exchange Place. Photo published in 1910 in the book Both Sides of Broadway from Bowling Green to Central Park. Original title: Knickerbocker Trust Co., 60 and 62 Broadway, corner Exchange Place. Dann & Peckner, shirt maker and men's wear.
The Knickerbocker Trust Co. Building was erected in 1907. Manhattan Life Building is to the left and the building between them was part of a larger building. This part was razed when the Knickerbocker Trust Co. Building added more floors about 1912, reaching 27 floors. It was demolished in 1964. Another Knickerbocker Trust Company Building was constructed around 1902 on Fifth Avenue, also in neoclassical style.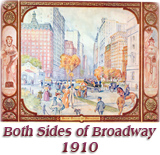 14 - Broadway (52-56) at Exchange Place. Exchange Court Building - 1910.
13 - Buildings at 47 to 55 Broadway. Exchange Alley, Wells Fargo Co. - 1910.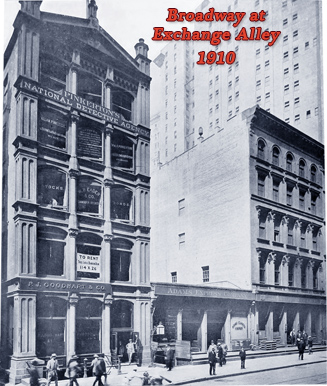 15 - Buildings at 57, 50 and 61 Broadway. Exchange Alley is on the left.
Copyright © Geographic Guide - Old Photos of New York City.

East Side Broadway at Exchange Place - 1910