Images of Central America from Space

Panama Canal - A 50-mile long engineering wonder connecting the Caribbean Sea and the Pacific Ocean. Completed in 1914, it runs southeastward from Colon, through the man-made Gatun Lake, to Panama City on the Pacific side of the Isthmus of Panama. The canal, a major artery of international shipping, uses a series of massive locks, manmade lakes, and water supplied by the copious tropical rainfall of the region to lift and lower transiting ships a height of 85 feet over the continental divide. Thick rainforests border the canal, and the protected Canal Zone is easily delineated by the dark green band of forest, which contrast the lighter green cultivated areas of Panama. The ecologically sensitive Canal Zone supports diverse lowland rainforest that is crucial for water balance and erosion/siltation control around the canal. Scientists monitor the edges of the Canal Zone rainforest for degradation from development (NASA - International Space Station, January 2003).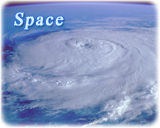 Yucatan Peninsula (NASA - March 2003).
Cuba (bottom), southern Florida (top) and the western edge of the Bahamas. Cuba's capital, Havana, makes a grayish patch along the green, northern coastline. The Gauniguanico Mountains dominate the western tip of the island, and appear darker green than the coastal terrain. Across the Batabano Bay, the dark green color of the peninsula is due to lush wetlands (NASA - November 2002).




Copyright © Geographic Guide - Travel American Continent.