Arkansas, one of the west south central states, is known as The Natural State for stunning mountain landscapes, clear running streams and parks. The state capital and most populous city is Little Rock.
It was previously part of French Louisiana and was admitted to the Union as the 25th state on June 15, 1836. The Delta region is where the blues were born and Johnny Cash's musical journey began. Bill Clinton, another Arkansas son, also launched his political path in the state. In the 1960s, Arkansas became the base of the Walmart corporation, the world's largest retailer, headquartered in Bentonville. The state is also the rice capital of the world.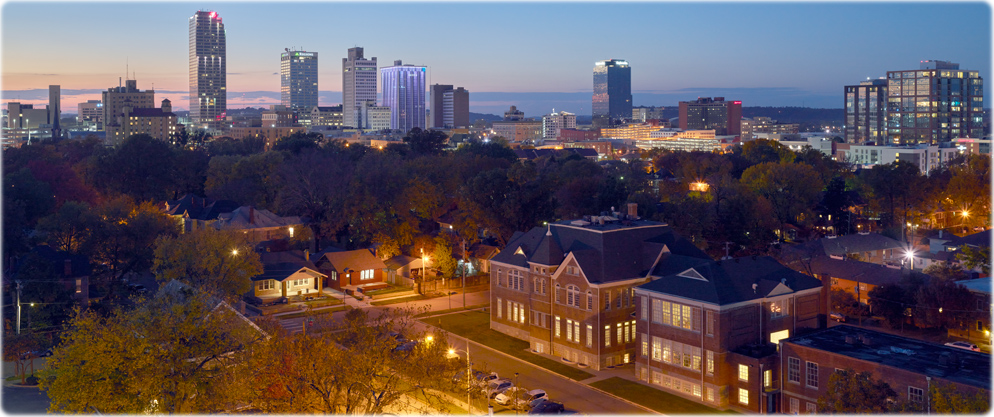 Dusk shot of Little Rock skyline, the capital city of the southern U.S. city of Little Rock. Photograph by Carol M. Highsmith, taken on November 8, 2020 (Library of Congress).
Blanchard Springs Caverns & Recreation Area, northern region. It offers a rich outdoor experience. You can see waterfalls and swim in the clear waters of the North Sylamore Creek. Hike into the Ozark woods for an hour or a weekend (Arkansas Department of Parks, Heritage, and Tourism).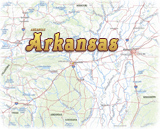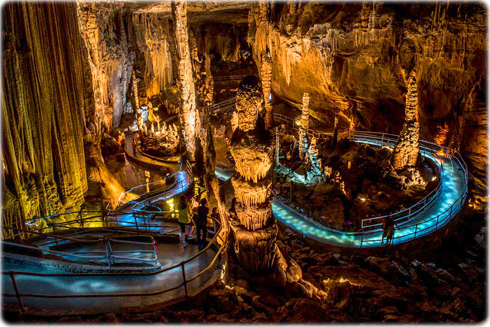 Little Rock Central High School, a national historic site (NPS photo). In 1957, Little Rock became the symbol of state resistance to school desegregation. Arkansas Governor Orval E. Faubus questioned the sanctity of the federal court system and the authority of the United States Supreme Court's desegregation ruling while nine African American high school students sought an education at the all-white Little Rock Central High School. President Dwight D. Eisenhower was compelled to use federal troops to ensure the rights of African American children to attend the previously all-white school.
Thorncrown Chapel located on Highway 62 West just outside of Eureka Springs, Arkansas, opened in 1980. Constructed in wooden structure, with 425 windows and over 6,000 square feet of glass.

Below, a view of Bathhouse Row from above, Hot Springs National Park. It has a rich cultural past and it is a unique and beautiful destination (photo Mitch Smith / NPS).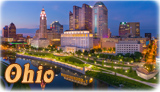 A ranger speaks with a group of people outside of the historic Boxley Grist Mill in Boxley Valley, Buffalo National River (photo Terra Fondriest).
Fort Smith National Historic Site, Visitor Center (NPS photo). The first Fort Smith was established on December 25, 1817, to the final days of Judge Isaac C. Parker's jurisdiction over Indian Territory in 1896. Fort Smith National Historic Site preserves almost 80 years of history.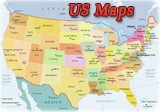 Copyright © Geographic Guide - Travel United States, North America.