North Dakota is a U.S. state in the west north central region. The capital is Bismarck and the largest city is Fargo. North Dakota has several winter sports events, 17 national wildlife refuges and 16 state parks. The International Peace Garden, located on the border with Manitoba, Canada, honors the friendship between the two nations.
Bison crossing the Little Missouri River in the Theodore Roosevelt National Park. Bison are very mobile grazers, they will travel, on average, 10-15 miles.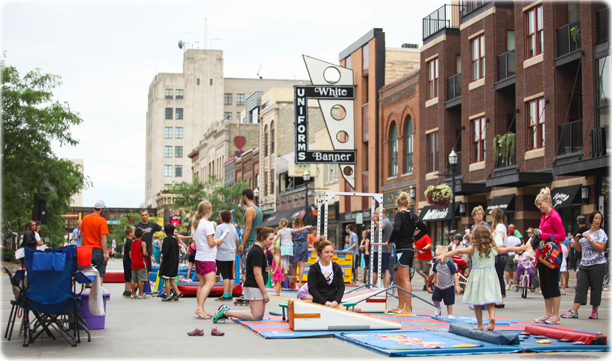 Above, street fair in Fargo, the largest city of North Dakota.
Below, the Assumption Abbey in Richardton, built in the early 1900's (photos North Dakota Tourism).

The Medora Musical (photo North Dakota Tourism).

Copyright © Geographic Guide - Travel United States, North America.