Forty-Two Broadway Building - 1910
Original title: Broadway, No. 42. The Empire Trust Co. - J.S Bache & Co., Bankers. Hudson Building is on the right. Photograph published in 1910 in the photobook Both Sides of Broadway from Bowling Green to Central Park.
The 21-story building (243-foot tall) at 42 Broadway, in the Financial District, was completed in 1904. The architect was Henry Ives Cobb, who was influenced by the French Renaissance style and old Florentine architecture.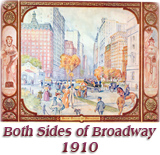 4 - Produce Exchange Bank, 10-12 Broadway, at Beaver Street.
Broadway, east side, Hudson Building to Exchange Place - 1899.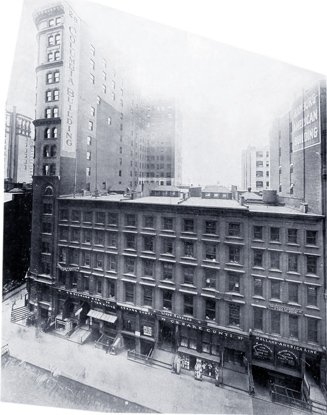 9 - Office buildings on the west side of Broadway. Columbia Building and Morris Street is on the left.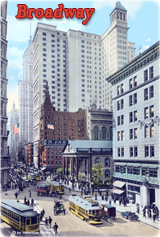 6 - Broadway, east side, Standard Oil Building and Welles Building - 1910.

Copyright © Geographic Guide - Old photographs of NYC.

Forty-Two Broadway Building - 1910