Photograph published in 1910 in the book Both Sides of Broadway from Bowling Green to Central Park. Original title: Nos. 44 - 50 Broadway. Ground floor occupants are: Art Goods Store - Washington Café - Stephen A. Cooper & Co., Tailors [Tower Building]. The lateral of the Forty-Two Broadway Building, to the right, was cut off the photo by the original author.
The Tower Building, on the left, was completed in 1889 and was the first building to use a steel skeleton structure. It was demolished in 1914.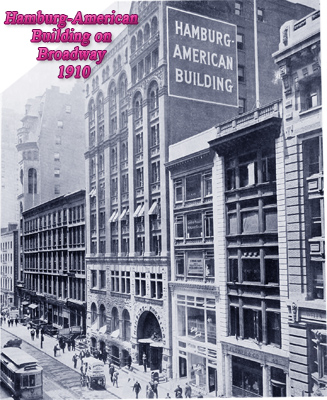 11 - Broadway, west side, at Exchange Place.
Broadway, east side, Hudson Building to Exchange Place - 1899.