Satellite Image of Brazil
Copyright © Geographic Guide - Travel South America.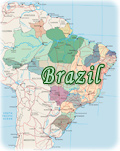 The first Brazilian city, Salvador, Bahia, also the first capital of Brazil. The Baía de Todos os Santos was discovered by Portuguese in 1501. It was well developed before the first European settlement in the United States, in the 17th century. This historic city is one of the most valuable heritage sites in the world, with churches and forts from the 16th century and the first beacon in America (Farol da Barra). Salvador is also known by its beauty. Porto da Barra was ranked, by both CNN and The Guardian, as one of the world's best beaches.