Bahia is a state (estado) of northeast Brazil. Its capital is Salvador. Population: 15 millions (2019), the fourth most populous Brazilian state.
It was the first Brazilian piece of land discovered by Europeans in 1500. Place of the first Brazilian capital: Salvador. Bahia has beautiful beaches and great historic and cultural heritage.
Guaiú beach, in Santo André, southern Bahia. The coastline of Bahia is more than 621 miles long and has natural beauties are scattered everywhere.
View of the Historic Center of Salvador, Brazil. The city, founded in the early 16th century, was one of the biggest in America until 19th century. It was the first city of Brazil and its capital until mid-18th century.
Church São Domingos Gusmão (18th century), in the Historic Center of Salvador. Bahia preserves a rich cultural heritage in its churches, museums and old houses. More Pictures of Salvador ►
Coroa Vermelha beach in Santa Cruz de Cabrália.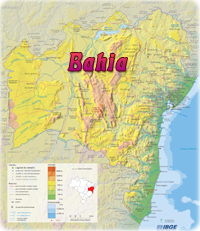 Farol da Barra in Salvador, the first lighthouse in America, constructed in the 17th century.
The Chapel of the historic Garcia d'Ávila Castle, in ruins. It was originally built in the 16th century, in the northern coast of Bahia.
The Historic Center of Porto Seguro, place of the first European settlement in Brazil, founded in 1503.

Igreja de São Francisco (St. Francis Church) in the Historic Center of Salvador, founded in the 16th century (photo Raul Golinelli).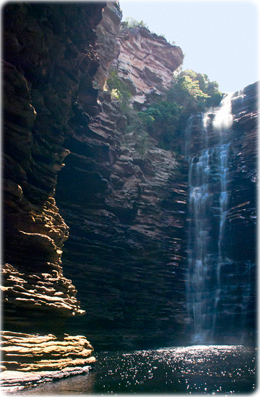 Cachoeira do Buracão, in Ibicoara, state of Bahia.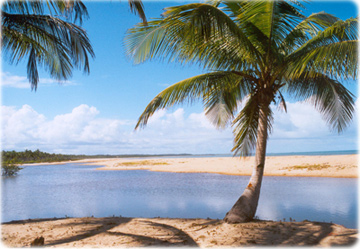 Beach in Porto Seguro, the place where Brazil was discovered in 1500 by Cabral. The first European settlement in Brazil was established here in 1503.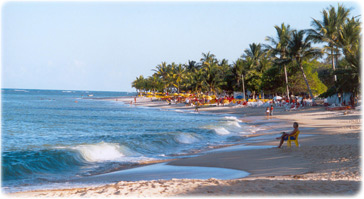 Copyright © Geographic Guide - Travel American Continent.
Beach of Corumbau in Prado, southern Brazil.