North Carolina is a U.S. state in the southeastern region of the country. It has a moderate climate, rich culture and many recreational opportunities. North Carolina has great scenic beauty, especially in the Great Smoky Mountains. The capital is Raleigh and Charlotte is the largest city.

Copyright © Geographic Guide - Travel United States, North America.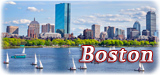 Skyline of downtown Raleigh.
French Broad Falls in the Fall, near Asheville (right).
Below, Sylva Downtown with the surrounding Mountains at Dusk.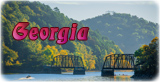 The Biltmore Estate in Asheville, a 19th century Vanderbilt-family country retreat.
North Carolina State Capitol, Downtown Raleigh.
Lake in Cowee Mountains, in western North Carolina.