Panorama of the West Side of Broadway - between 1854 and 1874
From Bowling Green to Dey Street
Panorama of the west side of Broadway, from no. 1 (Washington Building), Bowling Green, to a few houses above Dey St. . . .Lettering in pen-and-ink indicating streets and buildings, among latter, Atlantic Garden, Stevens House, Aldrich Court, Old City Hotel, . . .Franklin Hotel. This work remains a marvelous document of Broadway in the mid-19th century.
The east side of Broadway was highly damaged in the Great Fire of 1845. Some buildings in the west side, in Bowling Green, was also damaged.
Source: The New York Public Library.

Bowling Green in the first piece of this Panorama.
Note: It seems Trinity Church had already its tower at this time and a that this blue color of the sky was mistakenly painted and erased it here.
Stevens House in the west side of Broadway. Morris Street is about the middle.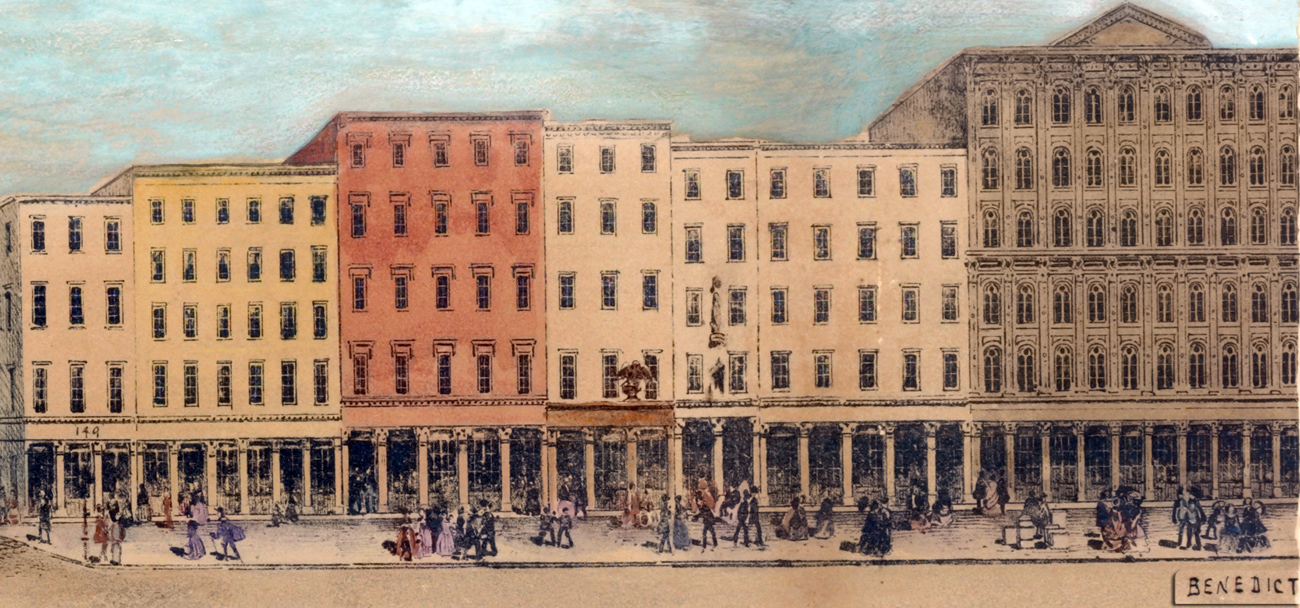 Broadway, west side - Bowling Green to Morris Street - 1899.

Broadway, west side. Morris Street to Exchange Alley - 1899.
Site of the Western Union Telegraph Building, completed in 1875.
Copyright © Geographic Guide - Antique photographs of NYC.

6 - Broadway, west side. Exchange Alley to Trinity Church - 1899.

Gilsey Building, 169-171 Broadway, completed in 1854.