Broadway, West Side. Exchange Alley to Trinity Church - 1899
Illustration shows buildings on the west side of Broadway, from Exchange Alley to Trinity Church. The International Navigation Company is in the Empire Building, completed in 1898, in the site of the old Grace Church.
From A Pictorial Description of Broadway, published in 1899 by the Mail & Express Company, publisher of the Evening Mail. Source: The New York Public Library.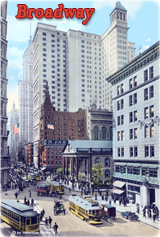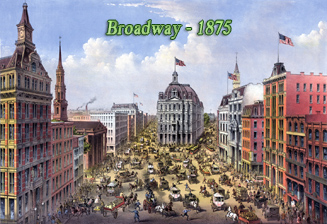 7 - Broadway, East Side. Exchange Place to Wall Street - 1899.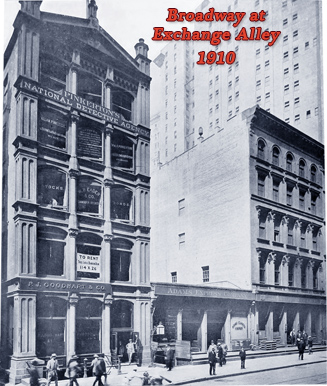 Buildings at 57, 50 and 61 Broadway. Exchange Alley is on the left.


4 - Broadway, west side. Morris Street to Exchange Alley - 1899.
5 - Broadway, east side, Hudson Building to Exchange Place - 1899.
Copyright © Geographic Guide - Old NYC, late 19th century.

Broadway, West Side. Exchange Alley to Trinity Church - 1899