Theaters on Old Broadway, New York - 1899
The old New York City in the late nineteenth century. Image depicts buildings on Broadway, west side, from 27th to 29th Street. Source: A Pictorial Description of Broadway, published in 1899 by Mail & Express Company, publisher of the Evening Mail (from the New York Public Library). Theaters are on the right. Since the 1870s, this area was emerging as an important theater district. The 28th street is in the middle. Dante's Inferno Cafe & Hotel is on the left. In 1904, Hotel Breslin was erected on the corner of West 29th Street. The stretch of Manhattan that lies along Broadway and the Avenue of the Americas, between 23d and 33d Streets, was at the heart of New York life. The impresario Sam T. Jack died in 1899 (see theater on the right).
58 - Broadway, west side, 25th to 27th St. 1899.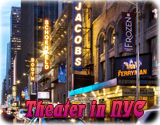 Fifth Avenue, East 27th Street - 1911.
Advertising of the Dante's Inferno Café on print.
61 - Broadway, east side, 27th to 29th St. 1899.
Copyright © Geographic Guide - Old NYC, nineteenth century.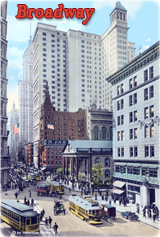 62 - Broadway, west side, 29th to 31st St. - 1899.
63 - Broadway, east side. 29th to 31st St - 1899.
Theaters on Old Broadway, New York - 1899