Great Fire of New York City in 1835
In the cold, windy night of December 16, 1835, about 17 blocks in Lower Manhattan were destroyed by fire and two people were killed. It became known as "The Great Conflagration of 1835". The fire started about 9 P.M. in a large warehouse at 25 Merchant Street (now Beaver Street), between Hanover Square and Wall Street. One hour later, several buildings were engulfed in flames. By 12:30 A.M., the fire was close to the Merchant Exchange. The flames raged from 16 to 24 hours, killed two people, destroyed almost 700 buildings and three or four vessels at the wharf's on South Street. At that time, the losses were estimated at twenty million dollars. On July 19, 1845, another great fire broke out in Lower Manhattan.
View of the ruins after the Great Fire in New York, as seen from Exchange Place. Hand colored lithograph by the British artist William James Bennett (1787-1844), after Nicolino V. Calyo.
The Great Fire of 1835 as seen from Williamsburg, Long Island by Nicolino Calyo, gouache on paper (New-York Historical Society). Italian artist Nicolino Calyo recorded the Great Fire in some paintings from different points of view.
Some notable buildings destroyed in the Great Fire: the old Merchants' Exchange, the Post Office, the Garden Street Church (South Dutch Church) and others.
View of the Great Fire in New York, 1835, by Nicolino Calyo, 1837, (The Museum of Fine Arts, Houston). The old Merchants' Exchange is showing burning on the right.
View of the Great Conflagration of December 16th and 17th, 1835; from Coenties Slip. Sketched and drawn on stone by J. H. Bufford. Published by J. Disturnell & J. H. Bufford.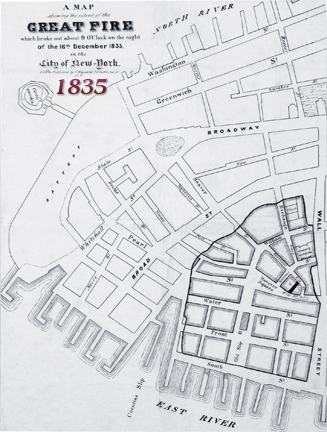 Map of the damage of the Great Fire, published in " The Extra Sun, Saturday 19 December 1835 (modified). The white marks on the black ground indicate the houses not burned. The red area indicates where the fire started.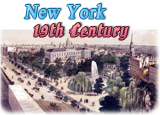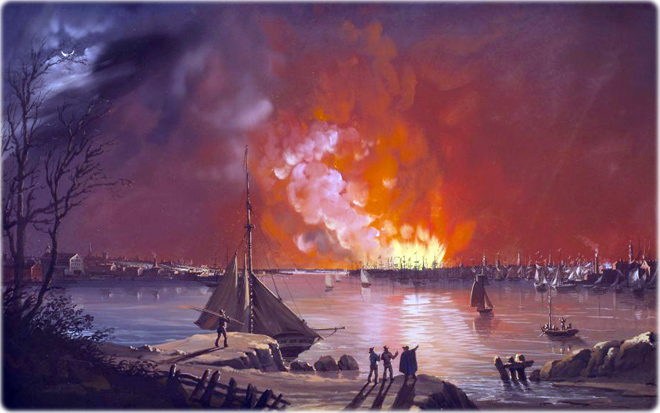 Great Fire of New York City in 1835

Copyright © Geographic Guide - Old images of NYC.