Old Trinity Building on Broadway - 1902
View from Broadway across the Trinity Church yard to the Old Trinity Building, New York City, November 16, 1902. The Soldiers' Monument is in the center of this photograph by Robert Louis Bracklow (1849-1919). The North American Trust Company Building (135 Broadway), completed about 1900, is on the right, northwest corner of Cedar Street. Source: New-York Historical Society.
The new Trinity Building and the United States Realty Building were erected on the site of the Old Trinity and Boreel buildings, between 1904 and 1907. Boreel Building (115 Broadway) was erected on the site of the historic City Hotel, closed in 1849.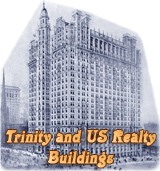 The buildings constructed on the same site of the buildings above, between 1904 and 1907.
Enlargement of the entrances.
Broadway, looking south. The old City Hotel, on the right, was on the site of the Boreel Building.
Building that previously occupied the site of the Trinity Building, adjoining Trinity Church Yard.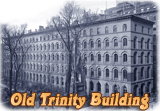 Copyright © Geographic Guide - Historic buildings of the City of New York.
Old Trinity Building on Broadway - 1902